Those who cannot remember the past are condemned to repeat it. – George Santayana
This gallery contains an amazing collection of rare, interesting, unusual and beautiful photography from the past. We look at the many people, places and things that made our history fascinating and wonderful. If you've been here before or think you've seen it all, think again! We've added new images and we've tried to expand on the captions wherever possible.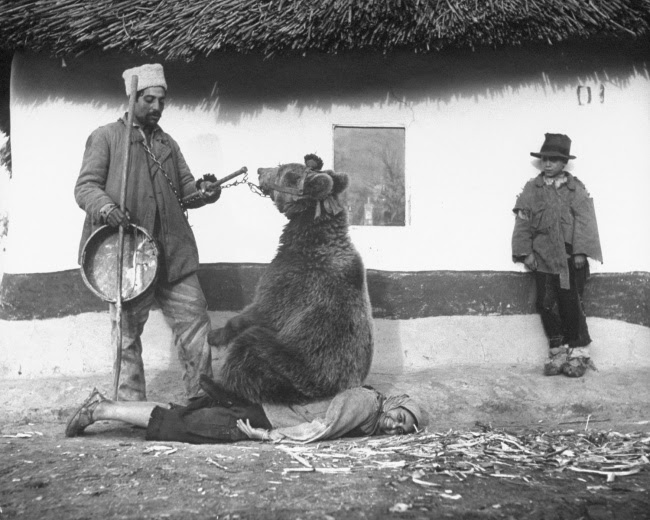 Using a bear to treat back pain. Romania, 1946. No risk of danger here.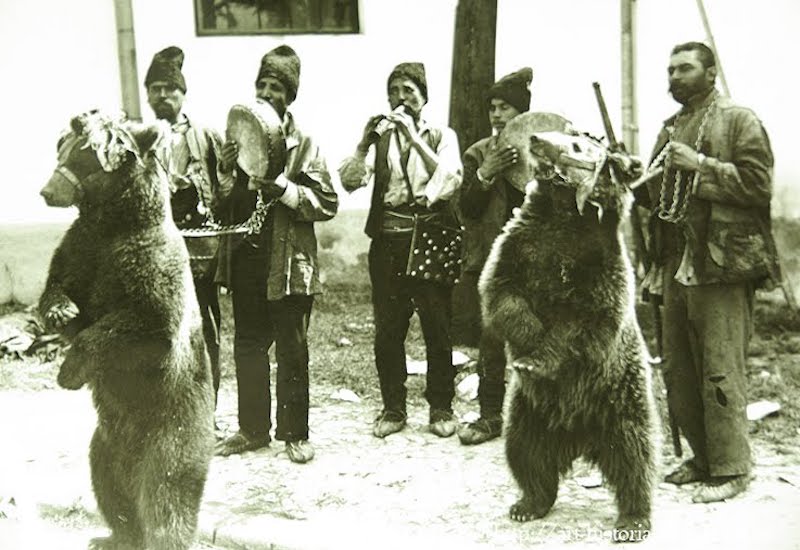 The Ursari (generally read as "bear leaders" or "bear handlers"; from the Romanian urs, meaning "bear"; singular: ursar; Bulgarian: урсари, ursari) or Richinara are the traditionally nomadic occupational group of animal trainers among the Romani people.
Start the slide show!
An endogamous category originally drawing the bulk of its income from busking performances in which they used dancing bears, usually brown bears and, in several instances, Old world monkeys, they have largely become settled after the 1850s. The Ursari form an important part of the Roma community in Romania, where they are one of the 40 tribal groups, as well as notable segments of the Bulgarian Roma population and of the one in Moldova. They also form a sizable part of the Roma present in Serbia and Western European countries such as the Netherlands and Italy.
Keep going for more amazing and unusual historical photography. You won't regret hitting the next page button! These photos need to be seen!
How many of these old photographs do you recognize?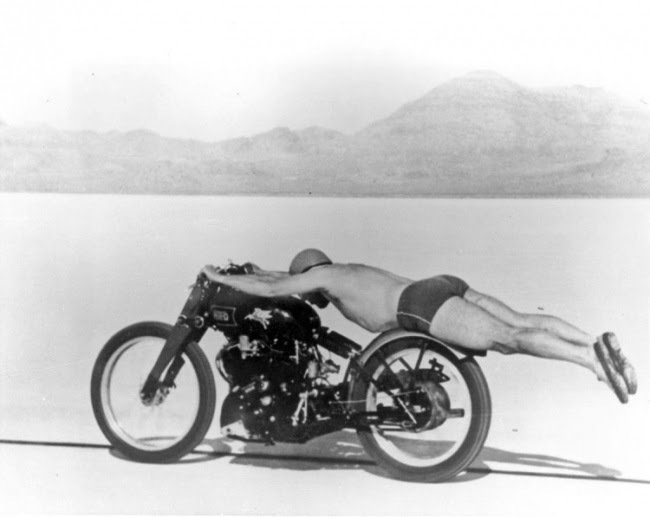 This image shows Rollie Free setting a new world speed record on a motorcycle, 1948 in Bonneville Salt Flats, Utah. Looks very safe.
The picture of Roland Free, prone and wearing a bathing suit, has been described as the most famous picture in motorcycling.
To protect himself and allow comfort when in such a position, Free had developed special protective clothing. However, when his leathers tore from early runs at 147 mph (237 km/h), he discarded them and made a final attempt without jacket, pants, gloves, boots or helmet. Free lay flat on the motorcycle wearing only a bathing suit, a shower cap, and a pair of borrowed sneakers – inspired by friend Ed Kretz. This resulted not only in the record, but also one of the most famous photographs in motorcycling history, the "bathing suit bike" shot taken from a speeding car alongside his run on the Bonneville Salt Flats in Utah.
Hit the next button for even more!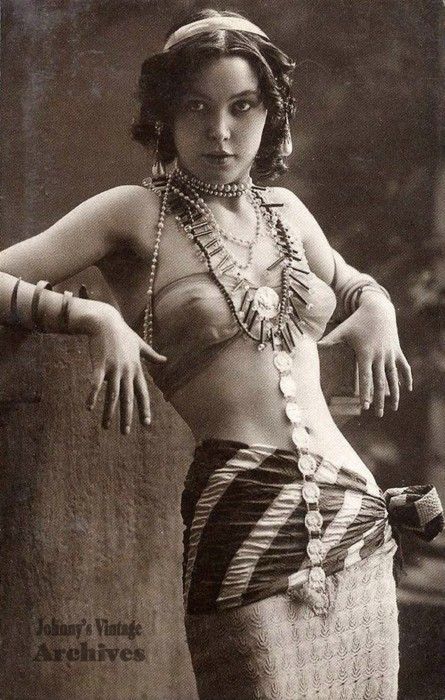 The incredible beauty, Zelda Boden in the early 1910s
There is not much known about Zelda. Many are enchanted by this mysterious beauty. The general consensus is that she was a circus performer from the early 1900s.
Yvonne Craig suiting up as Batgirl, 1968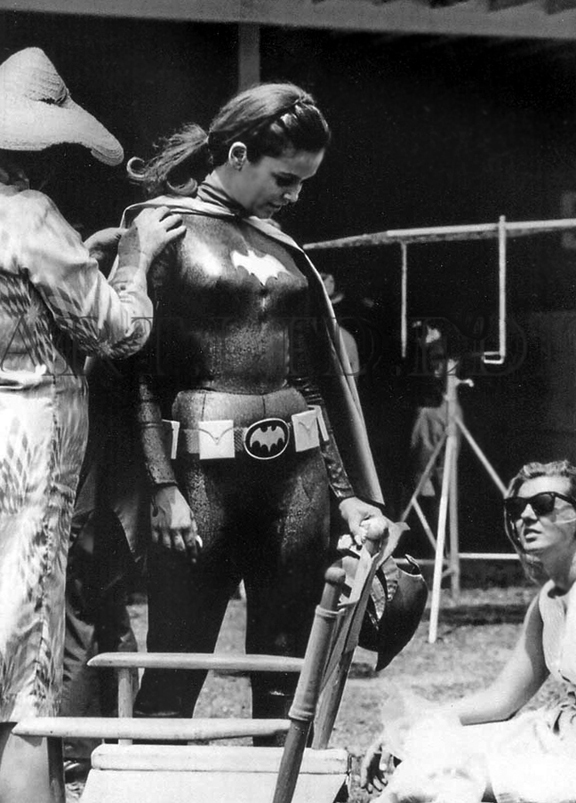 From September 1967, Craig appeared in her highest-profile role—as Batgirl—for the third and last season of the 1960s ABC TV series Batman.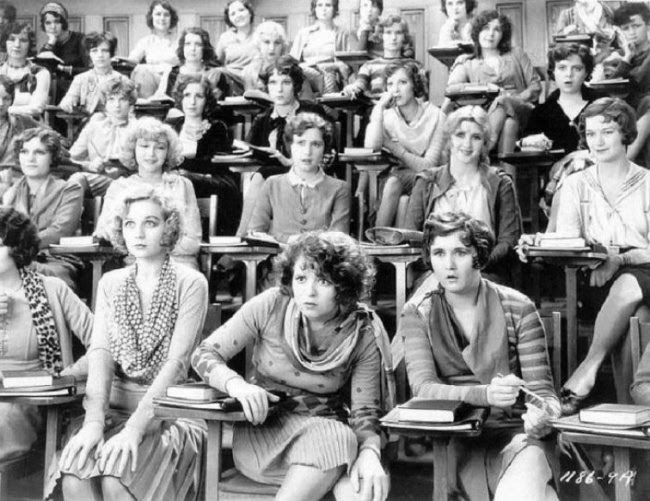 A sex education lesson, 1929. Shocking!
This is actually a shot from the 1929 Clara Bow film, The Wild Party. The film is known for being Clara Bow's talkie debut.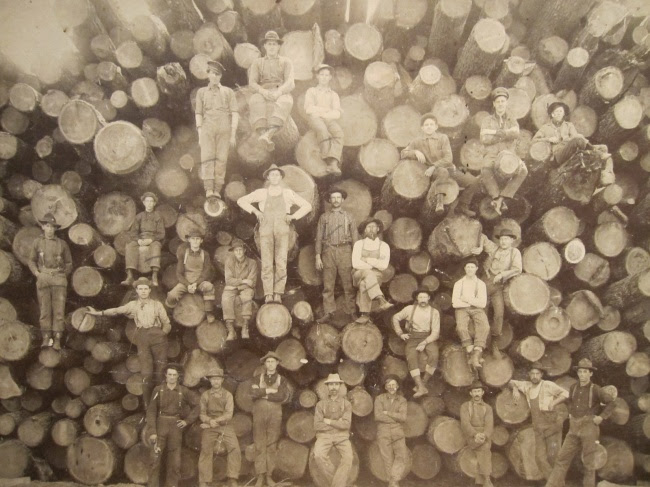 Lumberjacks, 1900s. So that's where all our trees went!
What do you think the Occupational Health and Safety Act would say about this?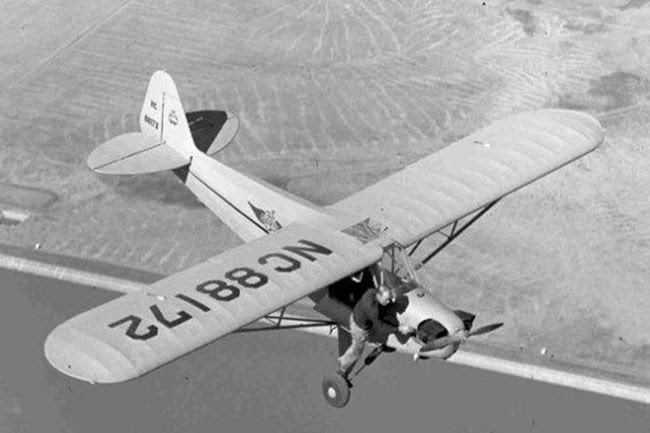 A pilot tries to start the stalled propellor of his plane during flight. It's kind of hard to get a jump start in the air! It sounds like this sort of thing might have been common in the early days of aviation.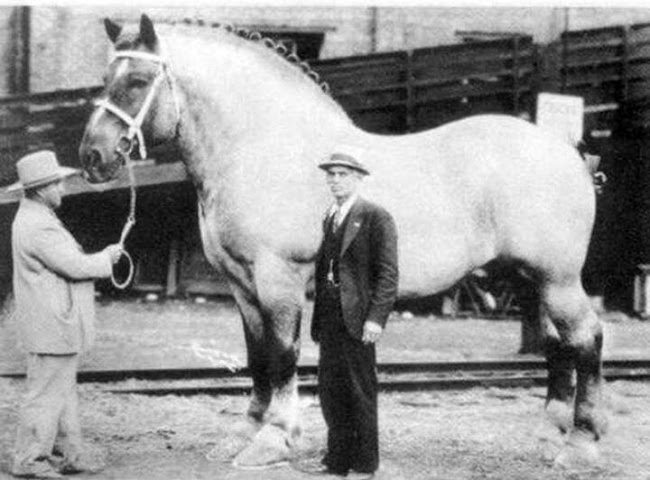 Brooklyn "Brookie" Supreme (April 12, 1928 – September 6, 1948) The biggest horse in the world, 1928. Of course.
Did you know that it cost 10 cents to view Brookie back in the day?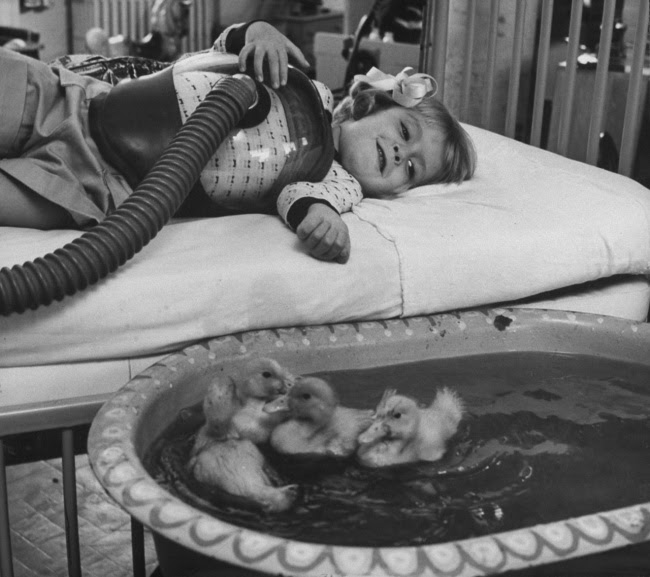 Using ducklings as therapy animals, 1956.
Animal-assisted therapy (AAT) is a type of therapy that involves animals as a form of treatment. The goal of AAT is to improve a patient's social, emotional, or cognitive functioning.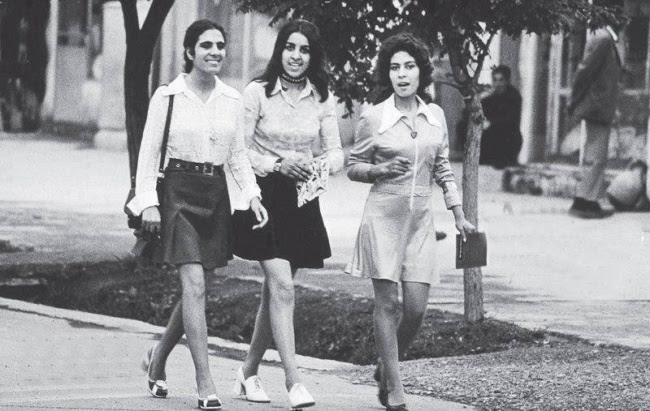 Young women in Kabul, Afghanistan, 1970s.
From the 1930s to the 1970s, Afghanistan had a semblance of a national government and Kabul was known as the Paris of Central Asia.
How the times have changed.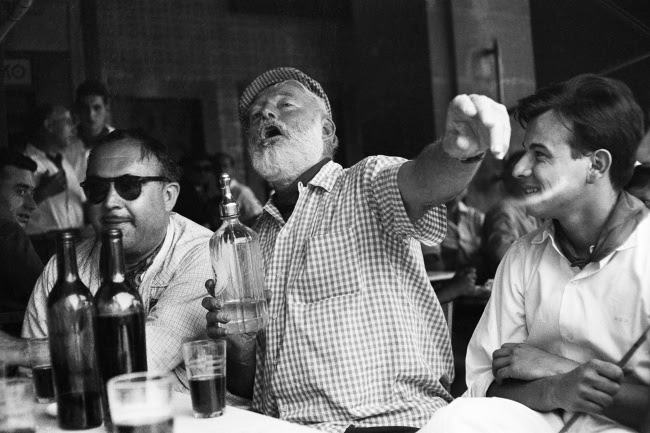 Ernest Hemingway having a drink.
Ernest suffered from severe headaches, high blood pressure, weight problems, and eventually diabetes—much of which was the result of previous accidents and many years of heavy drinking.
These aliments might have contributed to his eventual suicide.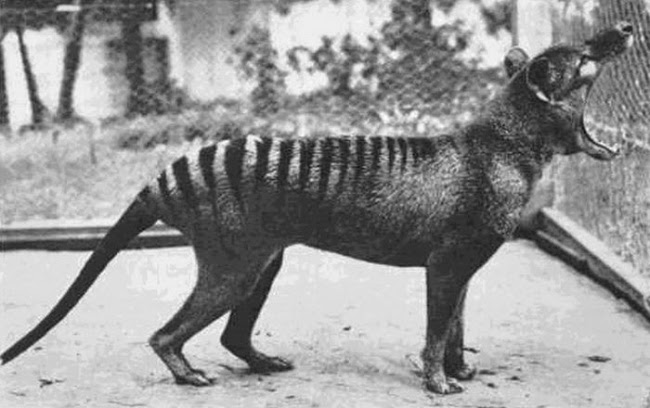 The last photo ever taken of a Thylacine, better known as the Tasmanian tiger or Tasmanian wolf, taken in 1933. This species is now extinct.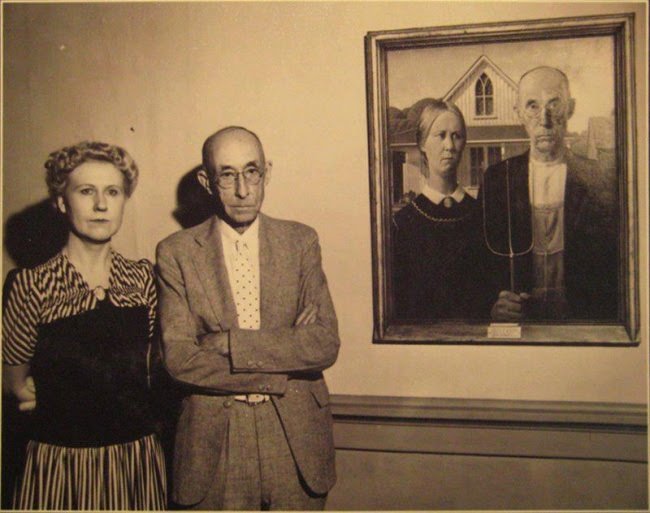 The models used by Grant Wood for his famous painting, American Gothic.
This is considered one of the most familiar images in 20th-century American art.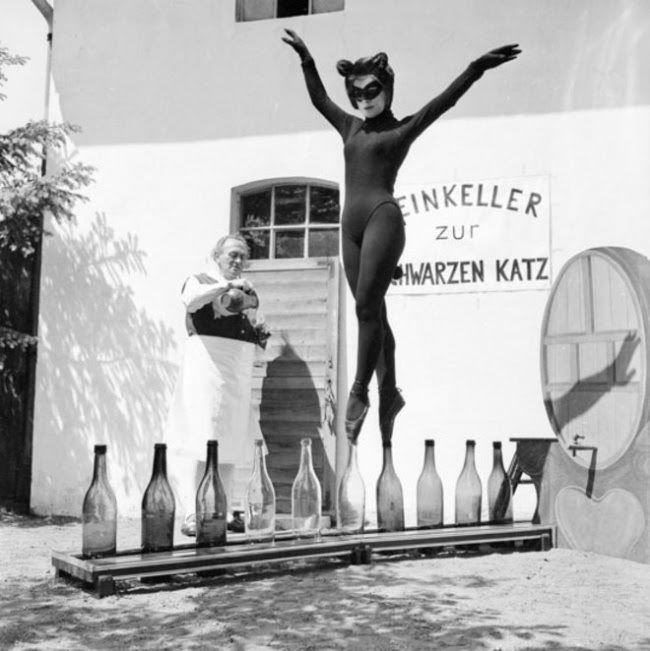 Seventeen-year-old Bianca Passarge dances on wine bottles in a cat costume. Hamburg, 1958.
There is not much known about this image but we are impressed nonetheless by her balancing skills!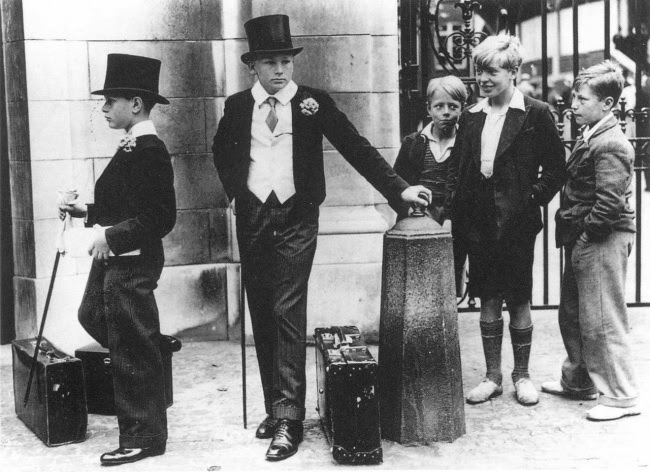 Class differences. Britain, 1937. Not much has changed.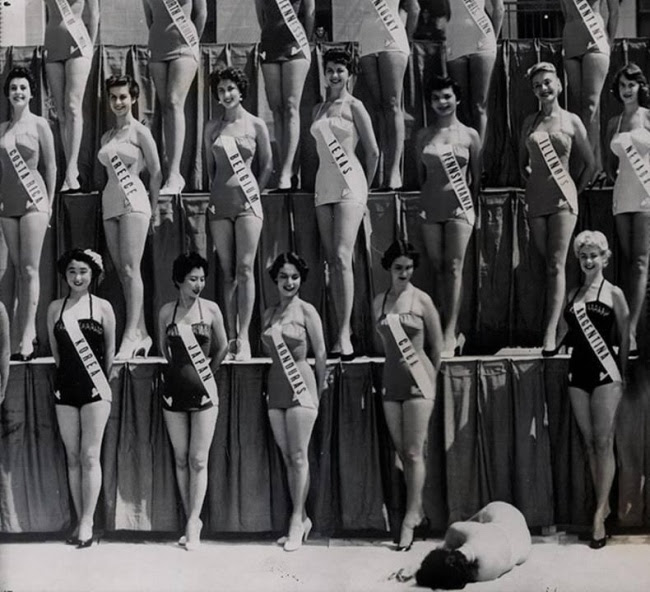 Miss New Zealand falls unconscious. Miss Universe competition, Long Beach, 15th July 1954.
You would think that Miss New Zealand would be used to the heat.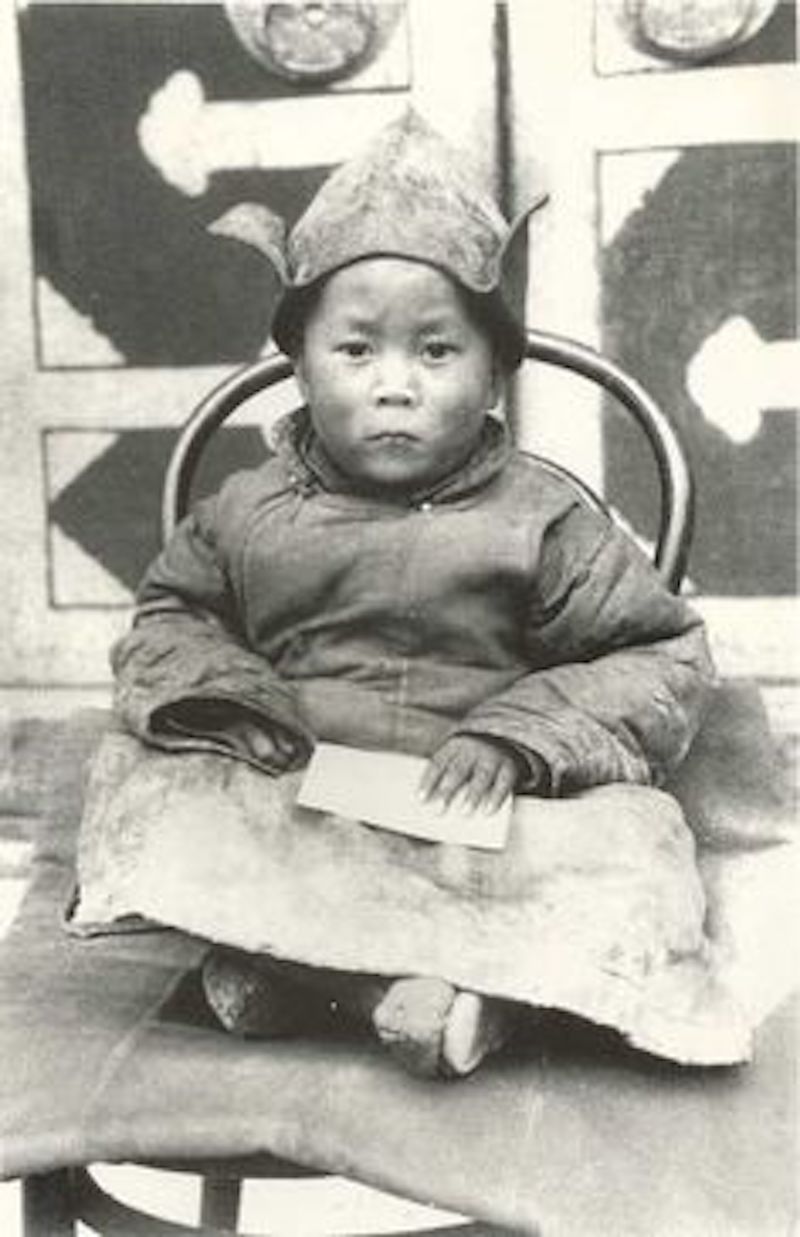 The two-year-old Dalai Lama, 1937.
The 14th Dalai Lama was born in Taktser village, Amdo, Tibet (currently administratively in Qinghai province, Republic of China), and was selected as the tulku of the 13th Dalai Lama in 1937 and formally recognized as the 14th Dalai Lama at a public declaration near the town of Bumchen in 1939.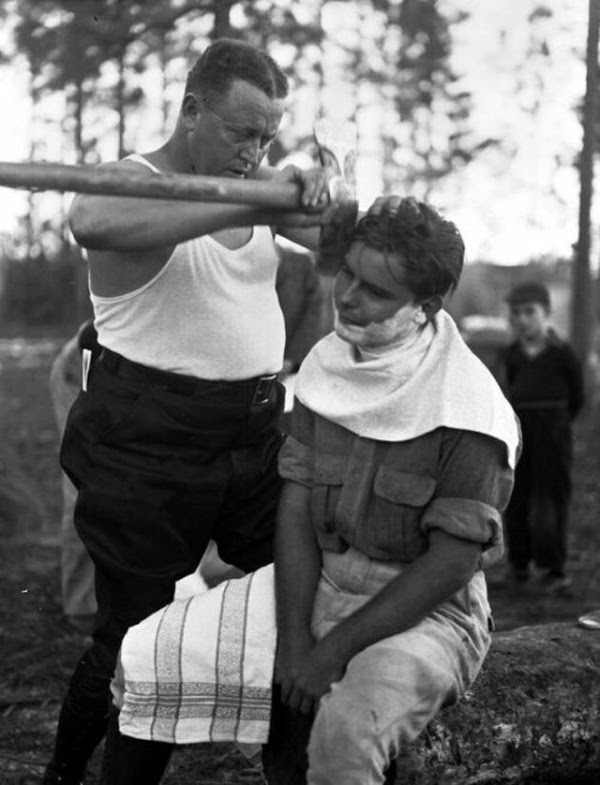 The way real men shave, 1940.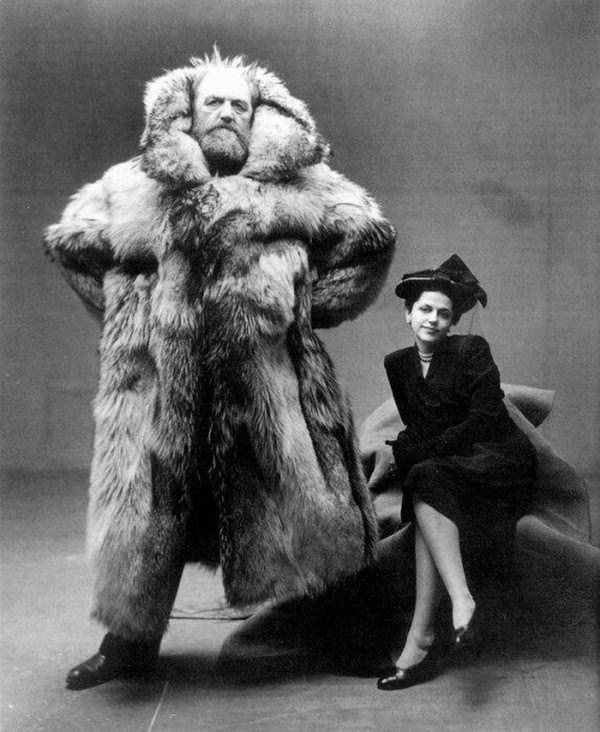 Arctic explorer Peter Freuchen with his wife, 1947. Looks kind of like Tormund Giantsbane.
Lorenz Peter Elfred Freuchen (February 2, 1886 – September 2, 1957) was a Danish explorer, author, journalist and anthropologist. He is notable for his role in Arctic exploration, especially the Thule Expeditions.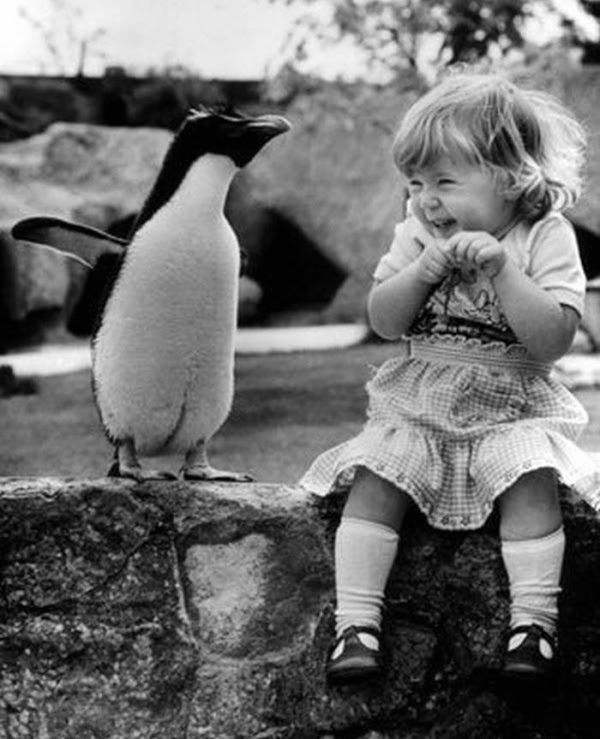 A little girl encounters a penguin for the first time. I'd be giddy too!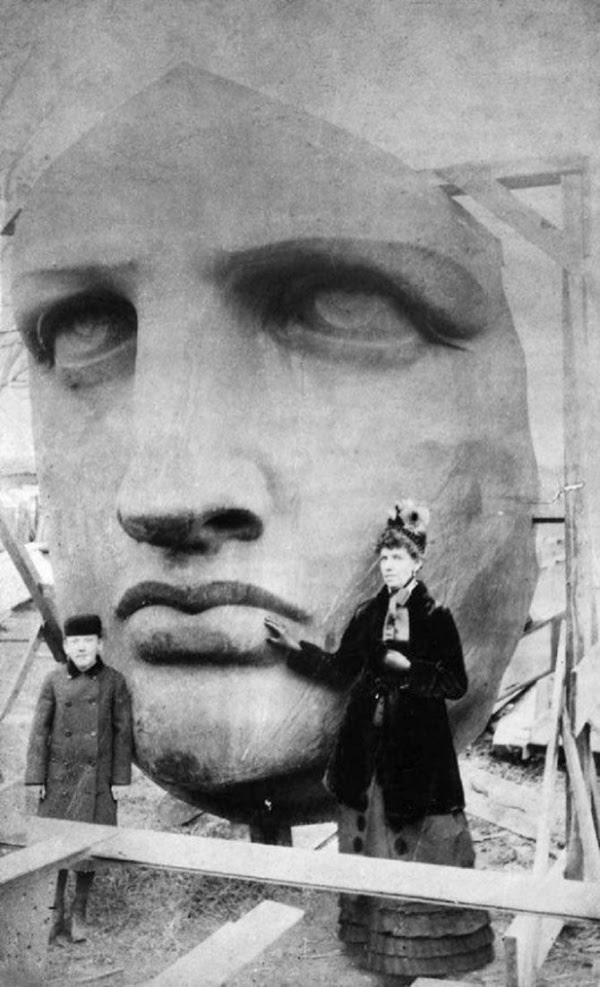 Unpacking the Statue of Liberty, 1885.
The entire Statue was completed and assembled in Paris between 1881 and 1884.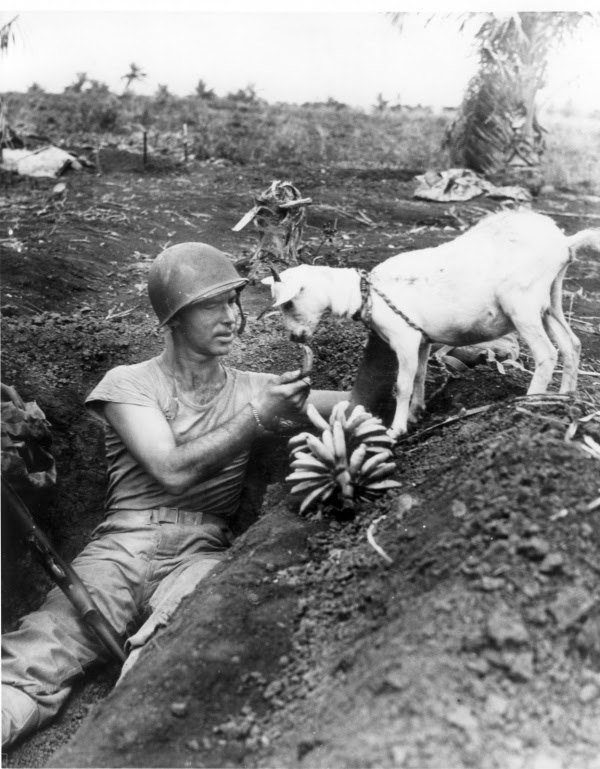 A soldier shares some bananas with a goat. Battle of Saipan, 1944.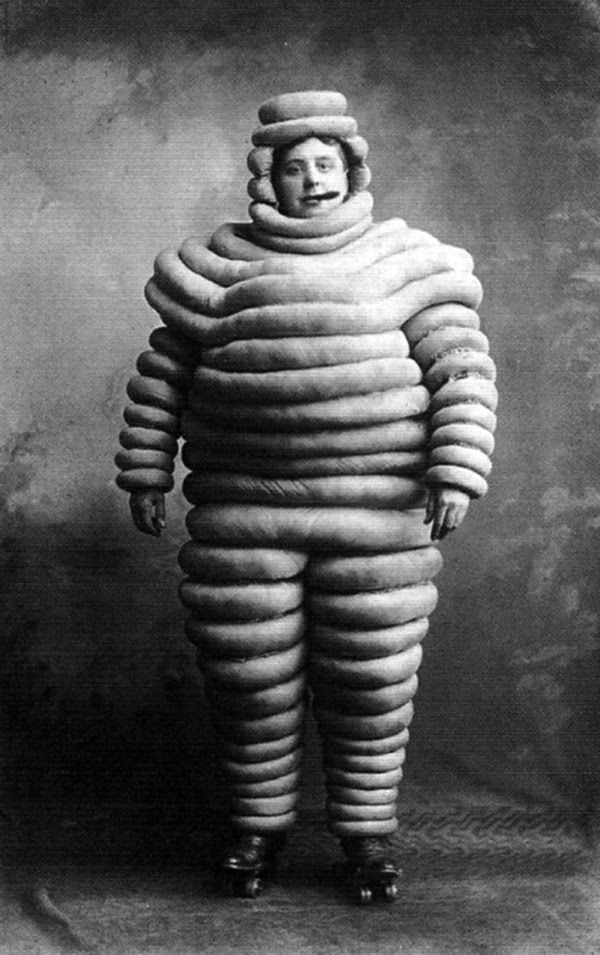 Original Michelin, 1910.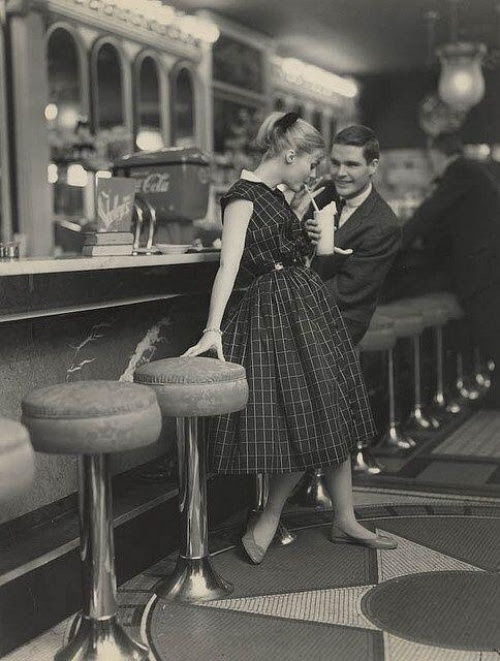 A man and woman on a date, 1950's.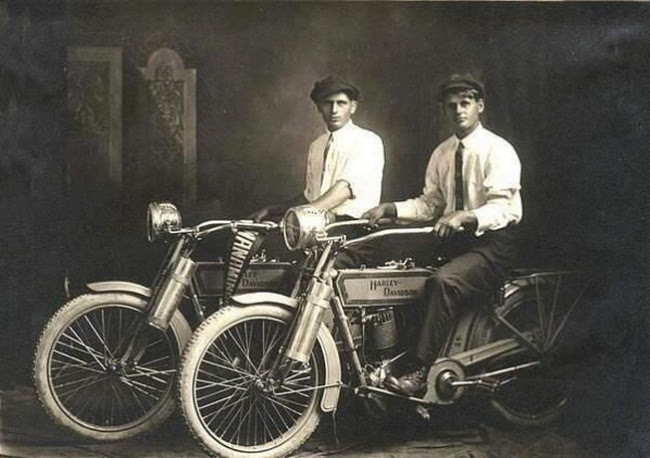 William Harley and Arthur Davidson, founders of the Harley Davidson Motorcycle Company. It's very interesting to see how the culture has changed.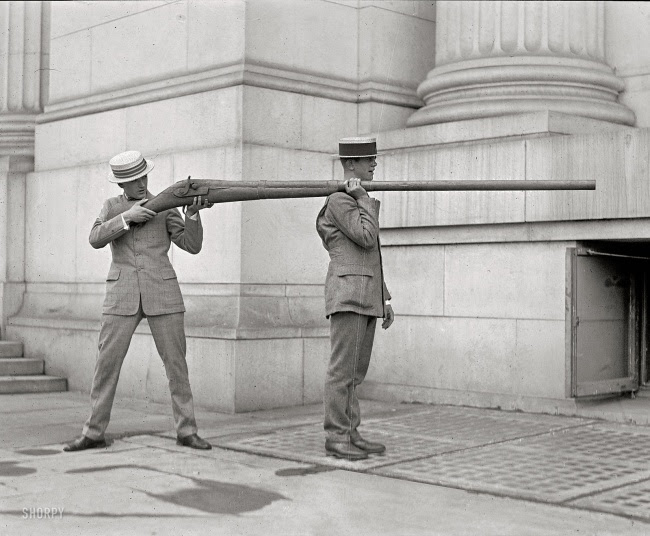 A gun used for duck hunting, early 20th century. Better not miss!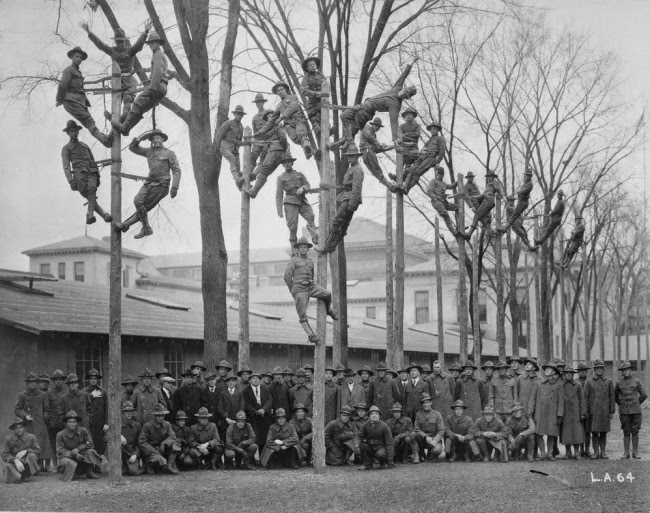 Military electricians, 1918.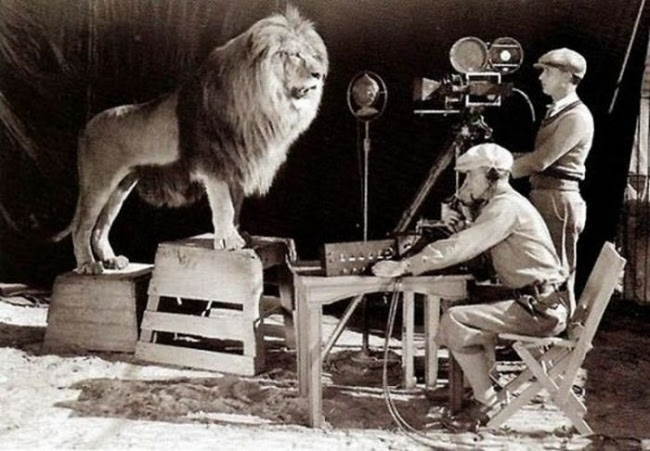 Filming the production logo for Metro-Goldwyn-Mayer.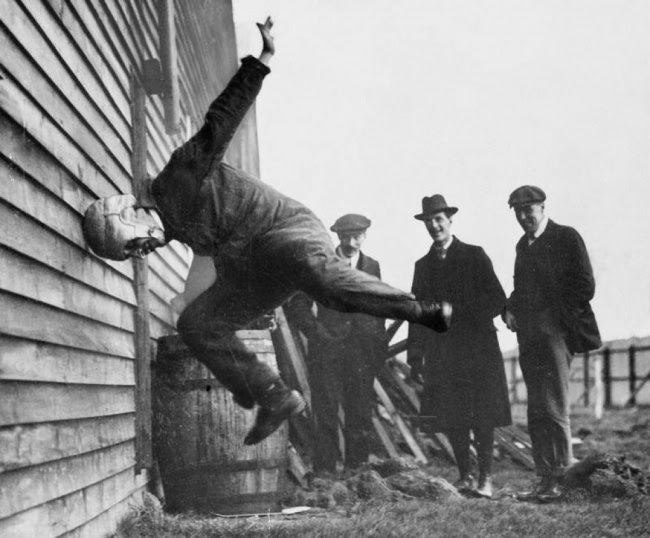 Testing a rugby helmet, 1912. I guess you need to have faith in your product!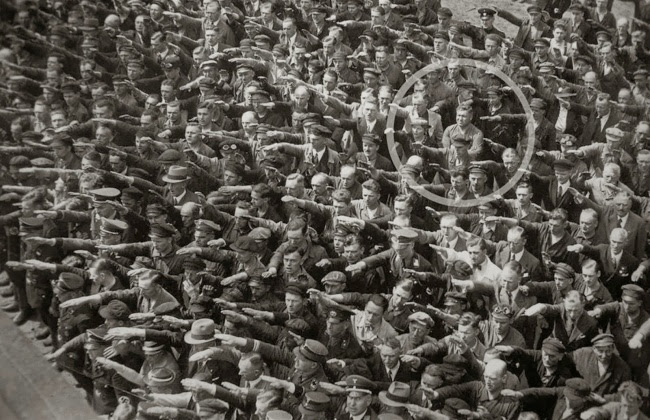 German industrial worker August Landmesser, whose wife was Jewish, refusing to salute Hitler. Hamburg, 1936.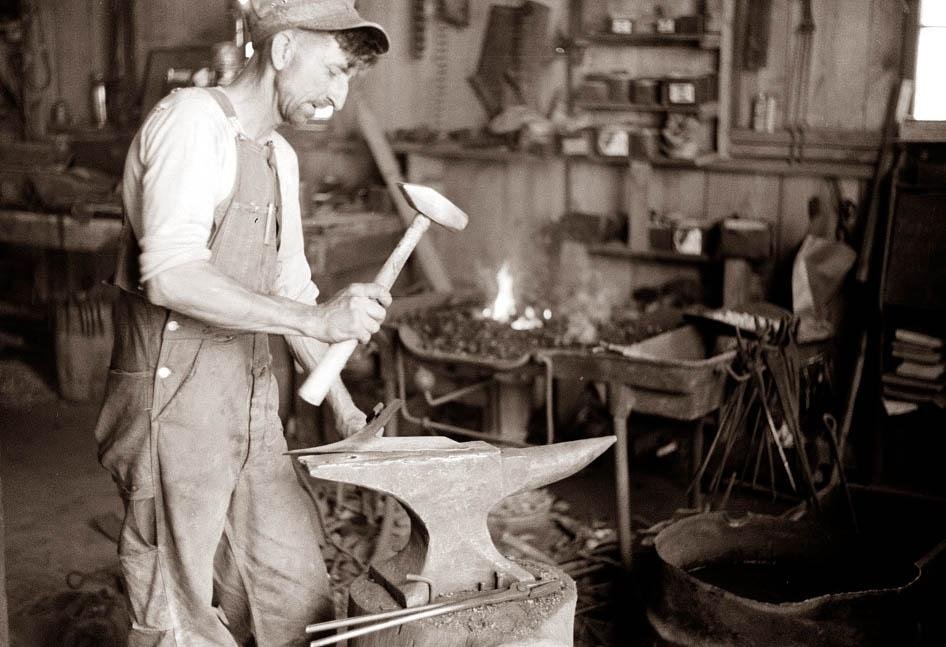 Blacksmith at work, Missouri 1940. The blacksmith is working a plow point to be used by one of the farmers at the Southeast Missouri Farms project near La Forge, Missouri. In 1937, the Farm Security Administration supplied housing to 100 displaced (40 black and 60 white) sharecropper families who built a cooperative community where they worked the land and pooled their profits.