The Early Years
Donald Trump is the son of Fred Trump, a very well known and wealthy New York City real estate mogul. He was the fourth of five children. He has two brothers, Fred Jr. and Robert, and two sisters, Elizabeth and Maryanne.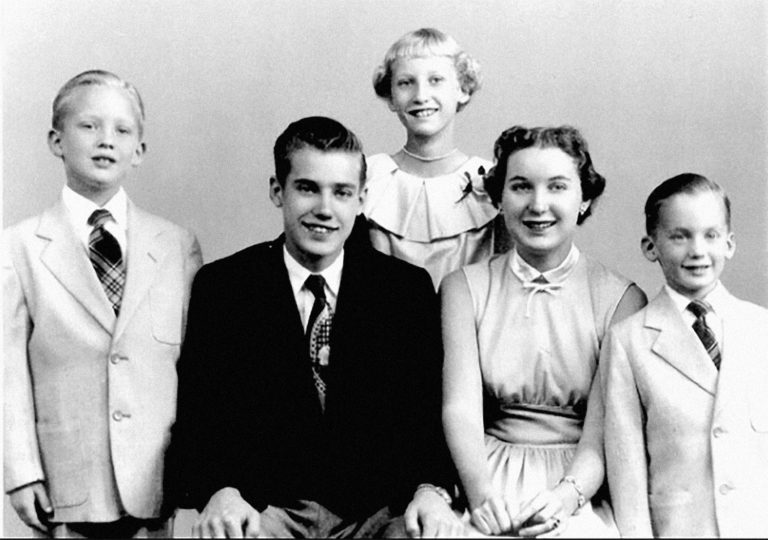 Being born to a wealthy family gave Donald an advantage at birth, and the many privileges that go along with it. While it would be lying to say that Donald is not hard working, his unique upbringing was vastly different than that of the average American man.
At His High-school Graduation
A photo of Donald and his dad at his high school graduation.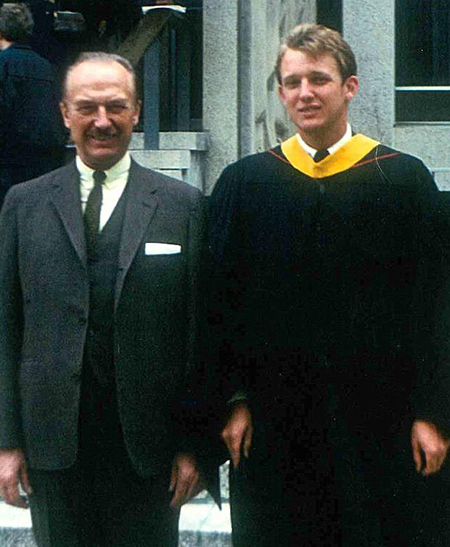 Trump grew up in a two-story home in Jamaica Estates, Queens and attended the Kew-Forest School. At the age of 13 he was enrolled in the New York Military Academy, his parents hoped that the dicipline at military school would be good for Donald, as he was an out of control child.
The Political Handshake
Donald and Fred Trump Shaking Hands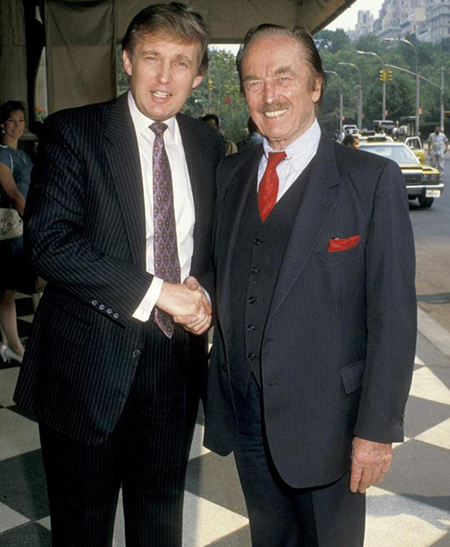 I'm sure nobody at the time would have thought that Donald would be president someday… Heck, he IS the president RIGHT NOW and I still do not believe it…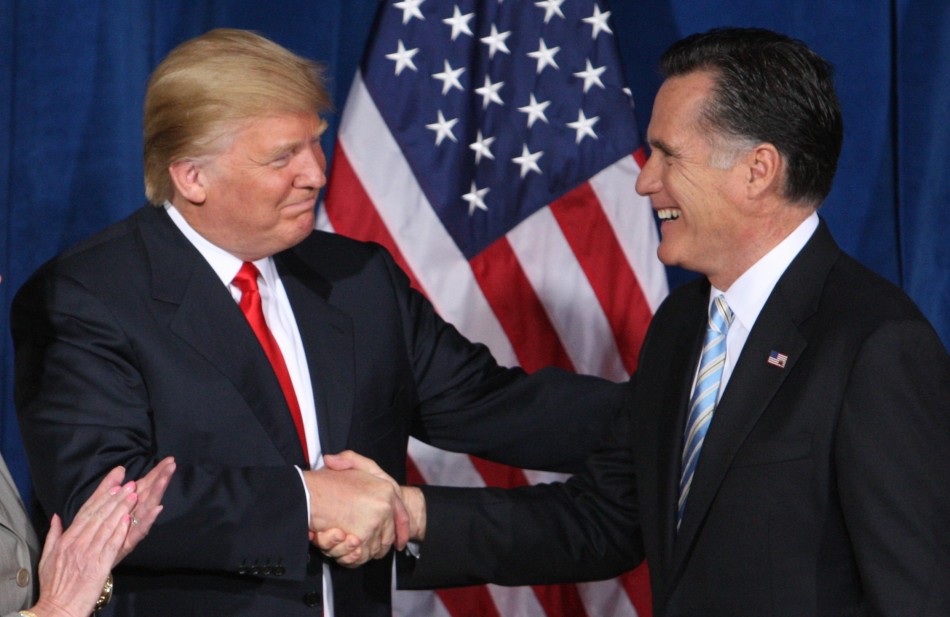 Growing Up
A photo of the Trump kids all grown up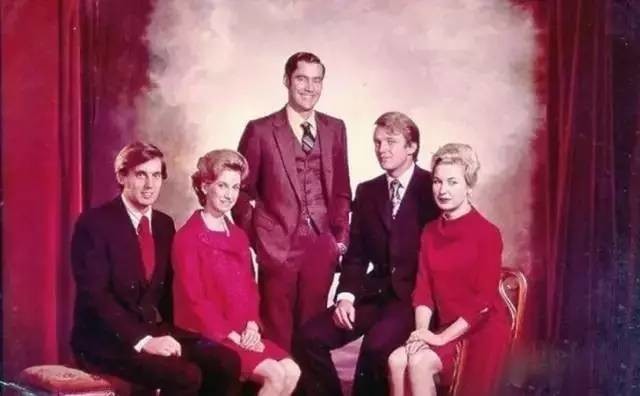 As the oldest child, Freddy Trump was actually the one in line to inherit the family empire. However after years of abuse, he passed away in 1981 from health problems caused by alcoholism. (Fun Fact: Donald Trump does not drink because of his brother's struggles)
Elizabeth Trump Grau works in the banking industry.
Maryanne Trump Barry is an attorney and a senior judge of the United States Court of Appeals for the Third Circuit.
Like Donald, Robert joined the family business and is a top executive with the company. Unlike Donald, he minds his own business.
Donald and Ivana Trump
Donald Trump is a big fan of marriage, he must be to have been married three times. His first wife Ivana is the mother to Donald's Three oldest children, Donald Jr., Ivanka and Eric.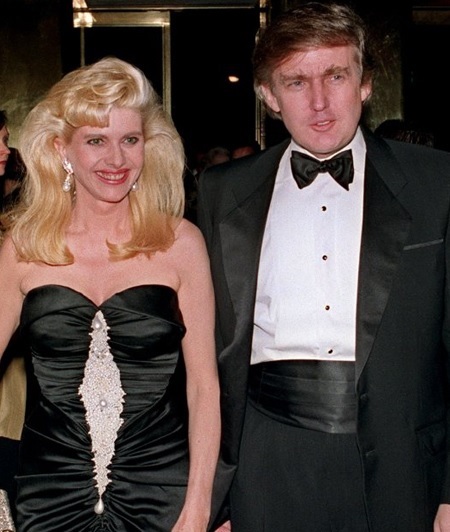 Their marriage, and divorce, received a lot of media attention. When Donald had an affair with his second wife, Marla Maples, Ivana called it quits. Smart lady!
Ivana Gets Her Green Card
Donald, Ivana and her new green card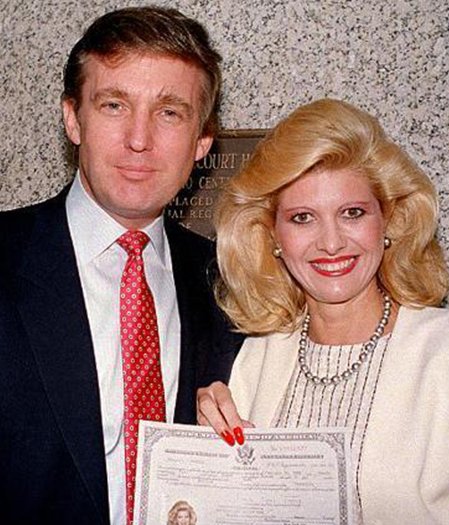 Ivana is from Czechoslovakia. She married the millionaire and thus, became eligible to become a a US citizen. Ivana became a naturalized United States citizen in 1988.
President Trump's anti-immigration rules seem very hypocritical considering he was the reason that his first wife Ivana was able to get her American citizenship. Do you think that he forgets that Ivana was not an American citizen when they met?
Donald and Ivana's Extravagant Wedding
Donald and Ivana on their wedding day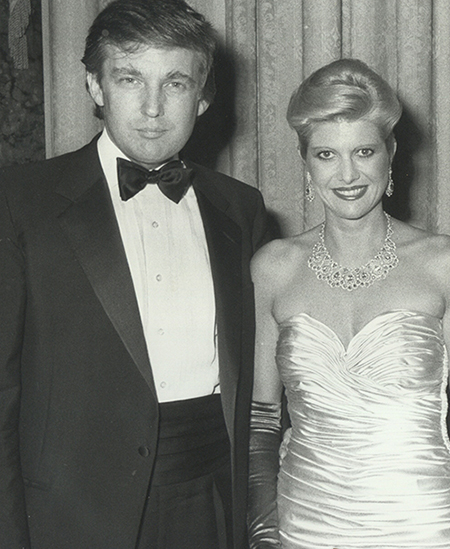 Donald and Ivana were married on April 7, 1977, at the Marble Collegiate Church in Manhattan. It's no surprise that their wedding was very lavish. It's too bad that it didn't work out between these two, Donald loves to save money on taxes and not getting divorced would have saved him a ton.
The Honeymoon
Donald and Ivana on their honeymoon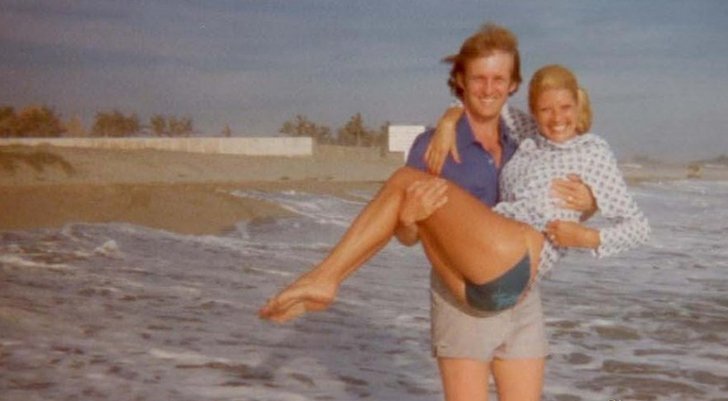 Donald and Ivana were married for 13 less than blissful years. The photo above depicts happier times between the couple. Ivana would later refer to Donald as "cruel and inhumane".
Donald and Ivana's Children
Donald Jr., Ivanka and Eric Trump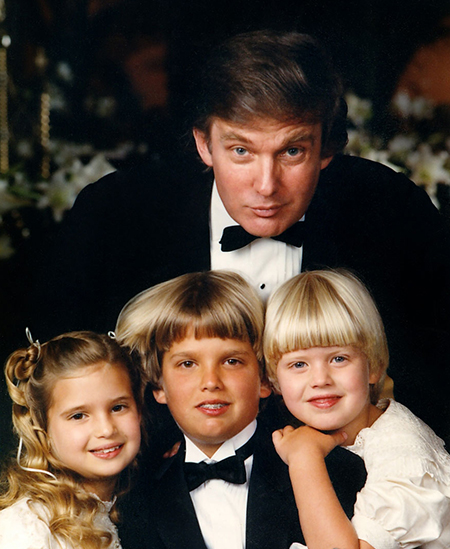 During their tumultuous marriage Donald and Ivana managed to have three children together. Here is a photo of Donald hovering above them like a vulture stalking his prey.
Money Can Buy Happiness
Ivana and Ivanka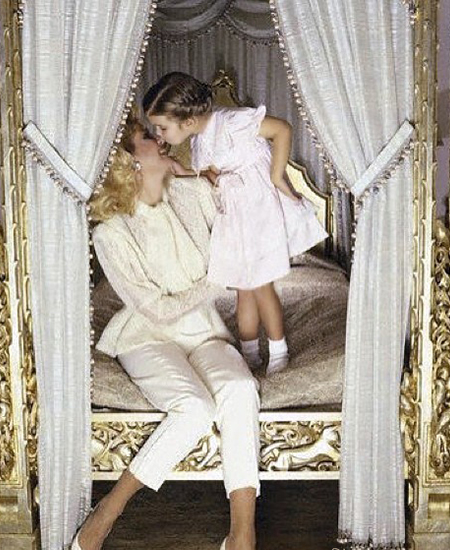 Money probably was the one thing that this family has never had to argue about. But seriously, this photo of Ivana and Ivanka on the most expensive bed in the world is really adorable. They look like they are really happy.
Family Photo
The original Trump family together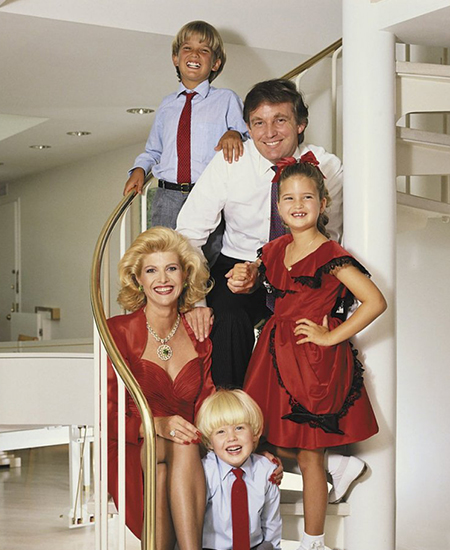 Finding a photo of the OG Trump family all together is actually more difficult than you would think. The color scheme on this one makes me think that this may have been a Christmas card photo. I also am a fan of the 80s time warp.
Ivanka Is Donald's Favorite Daughter
Donald and a preteen Ivanka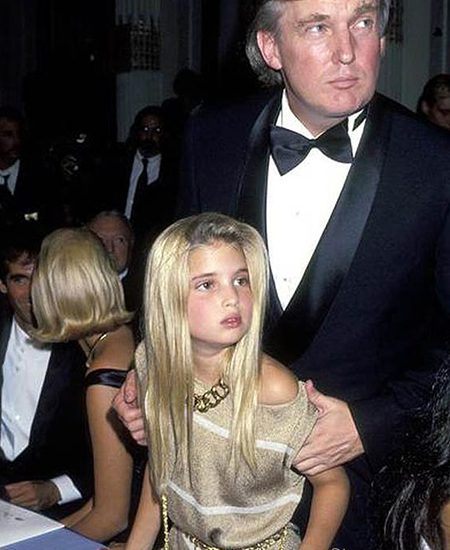 Donald and Ivanka have a close relationship and it is evident in this photo. If you're on the internet at all then you've seen how Trump talks about his daughters, and if you're not, the short version is that he's kind of a creep.
Donald is Ivanka's Favorite Daddy
Donald and a teenage Ivanka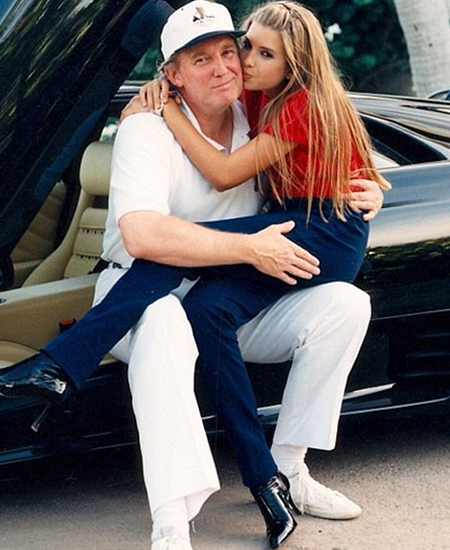 You would have to be blind to not notice that Ivanka and Donald have a close relationship. This picture shows Ivanka sitting on her dad's lap giving him a little peck on the cheek, while that's kind of sweet, the placement of Donald's creepy little tiny hands is not. He has said that if she were not his daughter, he would be dating her.
The Donald, The Divorce
People Magazine. February 24, 1990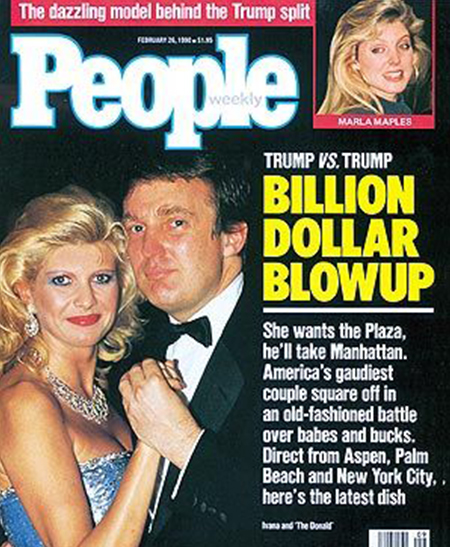 It's no secret that Donald cheated on his first wife with his second wife Marla Maples. But when this fact came to light and Ivana and Donald divorced it took the media by storm. Not only was it one of the most expensive divorces at the time, it was also one of the most publicized. In the end Ivana got her citizenship, fame, and a decent fortune out of the deal… plus she didn't have to be married to Donald Trump anymore, sounds like a win.
Wife Number Two
Marla Maples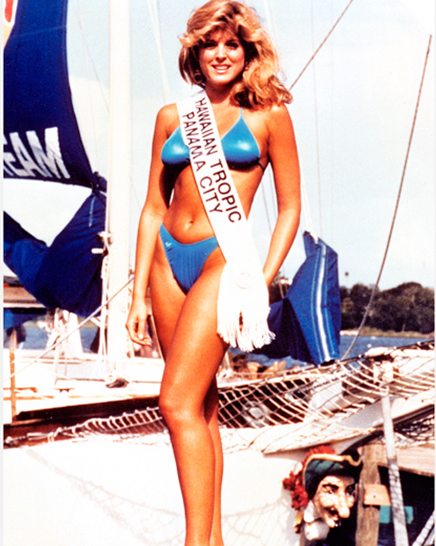 This is Marla Maples, she was Donald's mistress for some time and later became his second wife. She is best known for being Miss. Hawaiian Tropic, Panama city; she was also a model.. Donald only likes models, he loves beautiful women, he grabs them by the pu**y.
Showing the Love
Out in Public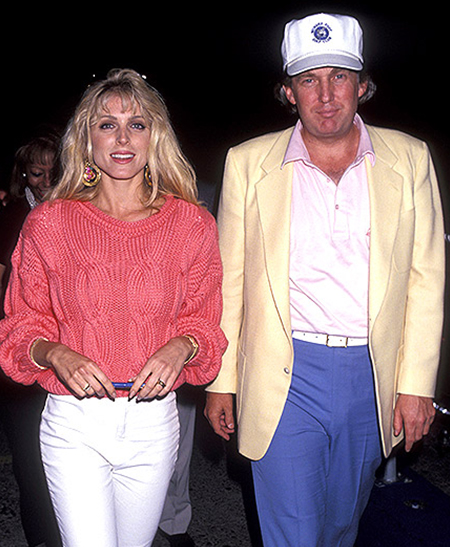 Once Donald Trump was finally able to ditch his now old first wife Ivana, he started being seen in public with his much younger girlfriend Marla Maples. It's only fitting that someone like Donald Trump be able to trade in his women like he does his cars. Don't they look happy! I still think Ivana is the biggest winner is all of this.
The Second Wedding
Donald and Marla on Their Wedding Day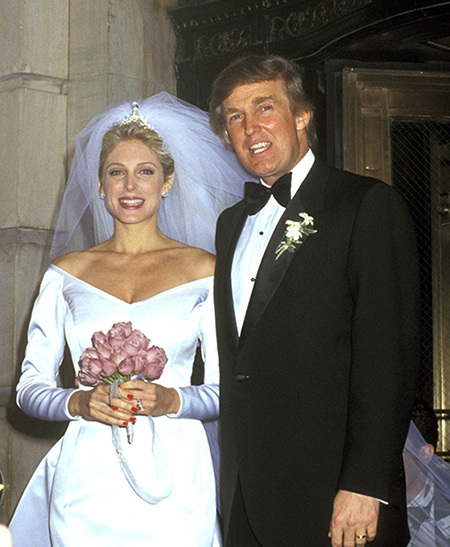 Donald had another very lavish ceremony the second time around too! It's amazing how much money he has, especially after paying such a large sum of money to Ivana. Donald and Marla were only married for 4 years before divorcing, it was real surprising…. NOT.
Donald's Fourth Child
Marla's Baby Bump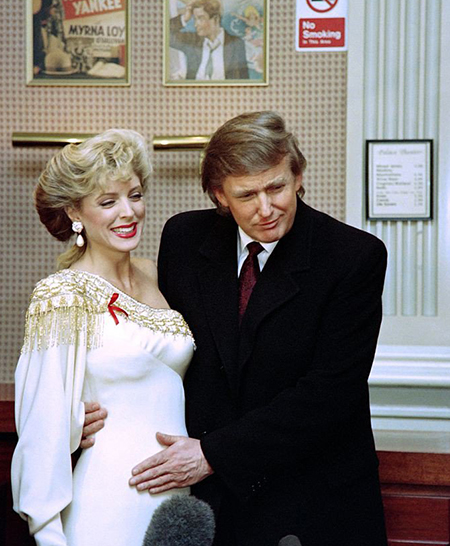 Despite being married for such a short time, Donald still managed to produce a fourth child. Here he is touching his wife's very cute baby bump. The child that Donald and Marla share is Tiffany Trump, named after the jewelry company. I didn't even know Tiffany existed until he ran for president. She's his least favorite child, I'm sure the feeling is mutual.
Donald's Second Family
Donald, Marla and baby Tiffany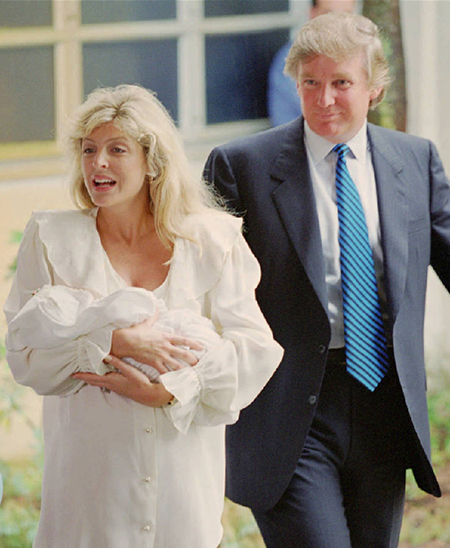 Tiffany was born in October 1993. She is Donald and Marla's only child. They look like a happy family, too bad it didn't work out. Donald never really talks much about Tiffany, it's too bad too, she looks nice.
One Happy Family
Donald, Marla and Tiffany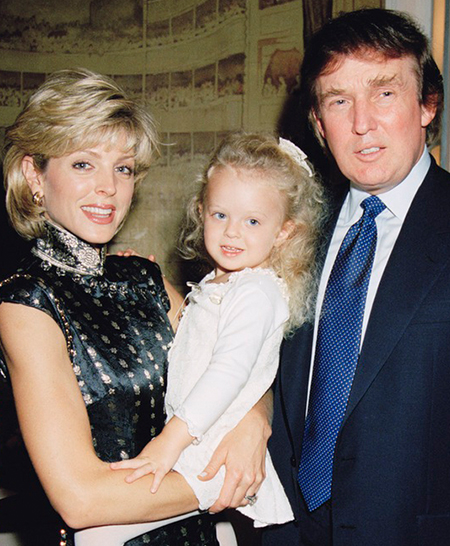 This is a photograph of Donald's family in the mid-90s. Despite the happy facade, Donald and Marla would divorce shortly after this picture was taken.
Strike Number Two
Oh the Scandal!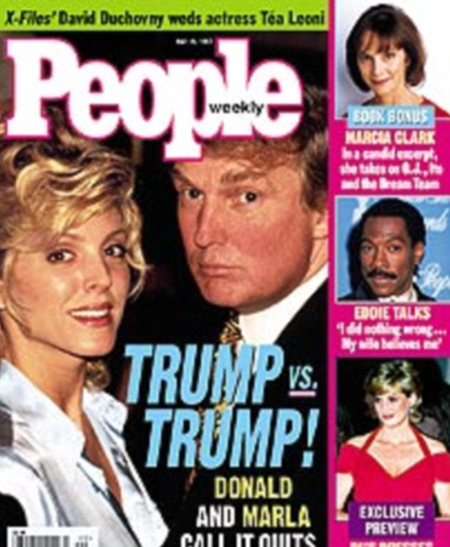 Donald seems to love divorce as much as he loves marriage, except I bet they cost a lot more money! I'm sure that nobody was surprised when they saw this headline, Donald is a difficult person to deal with and I'm sure that being married to him is awful. Marla filed for divorce due to irreconcilable differences, aka, he's kind of an a**hole.
Better off
A recent photograph of Marla and Tiffany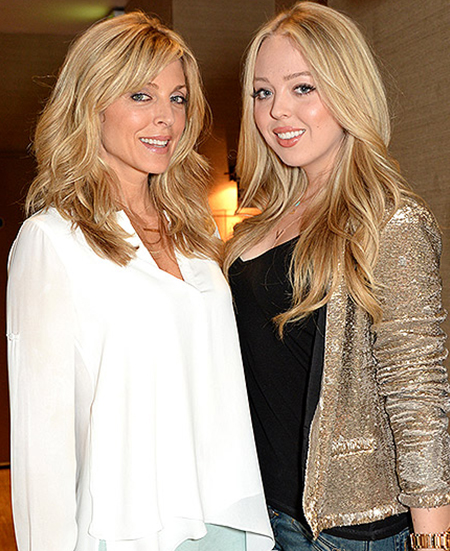 Although their marriage was an epic fail Marla, like Ivana, seems to have gotten out ahead. She got a lovely daughter, Tiffany, and the means to take good care of her.
Tiffany Graduates High school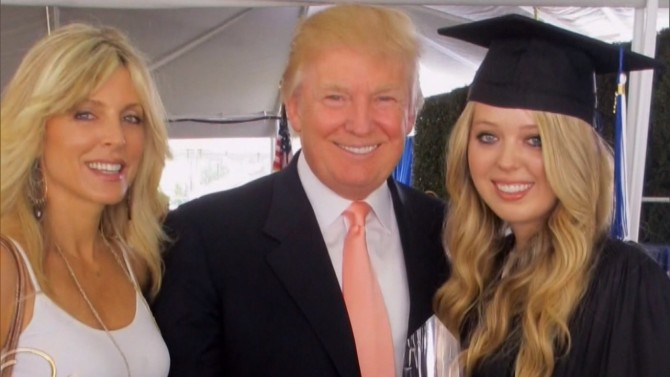 Even though Donald and Marla hate each other they still managed to come together for a nice photo with their daughter as they celebrate this milestone. Tiffany and Marla look beautiful. Donald is starting to look a bit orange. Could this be when he started sprinkling himself with the cheeto dust?
Mrs. Trump III
Donald and Melania on theor wedding day
Donald met Melania in 1998, technically while he was still married to Marla Maples. She is also a model, and 20 years younger than he is. He probably thought it was time to trade in his car, I mean wife. They got married in 2005 in another very lavish ceremony, probably the MOST lavish. They had over 350 guests and were serenaded by Billy Joel. Even his future nemeses Bill and Hillary Clinton were in attendance.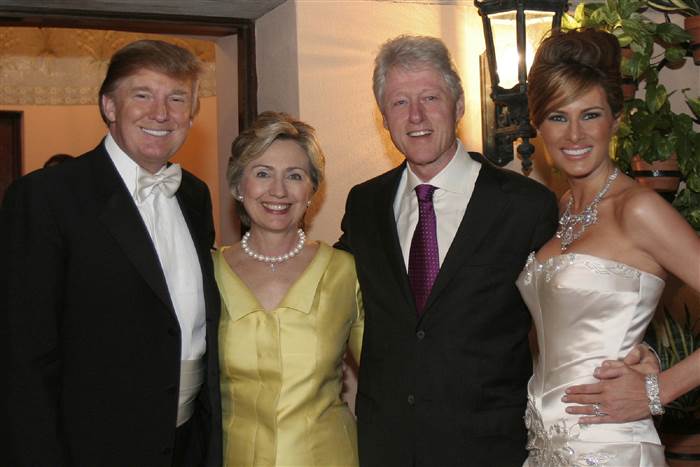 The third time's the charm… but can it survive the dictatorship presidency? I guess we will have to wait to find out!
It's Baby Time
Donald, Melania and Barron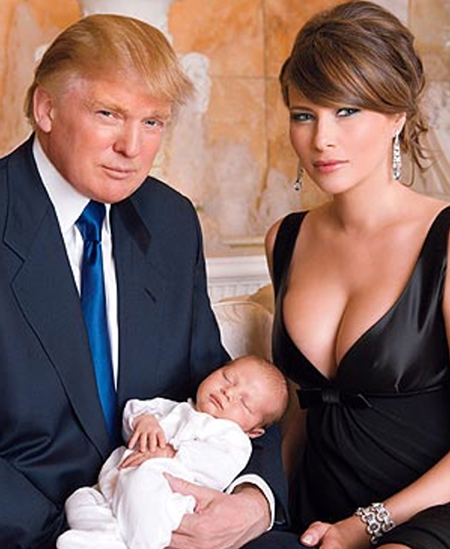 Donald doesn't waste any time trapping his wives, after just one year of marriage, in 2006, Donald and his new wife, Melania, welcomed their baby boy Barron. Melania seems like a nice woman, she has devoted a lot of herself into being a mother and doesn't even have a nanny. She is just like us, except that she lives in a gold plated tower and eats diamonds for breakfast.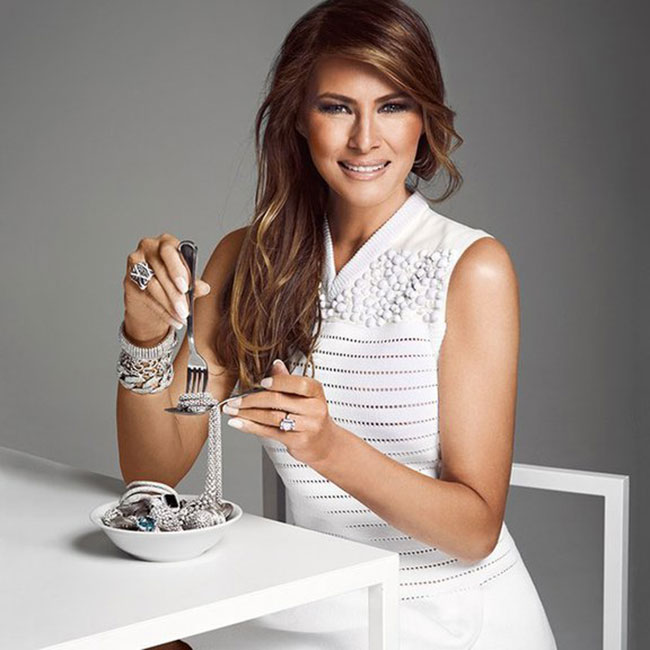 Donald's Third Family
Donald Trump and his things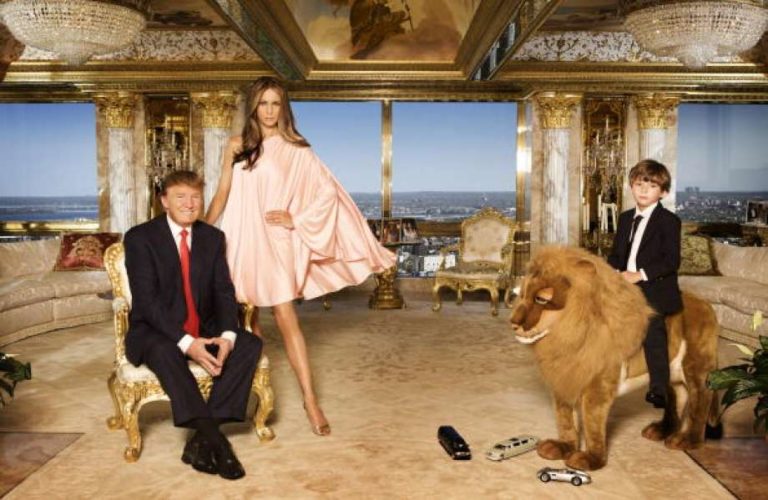 This is the gold plated room that I was talking about, it's INSANE! Take a good look at it because you will never see anything like it again in your life. Everything is made of gold, the chandeliers are probably made of diamonds, and that stuffed lion cost more than you make in a month.
The Happy Family
Donald, Melania and Barron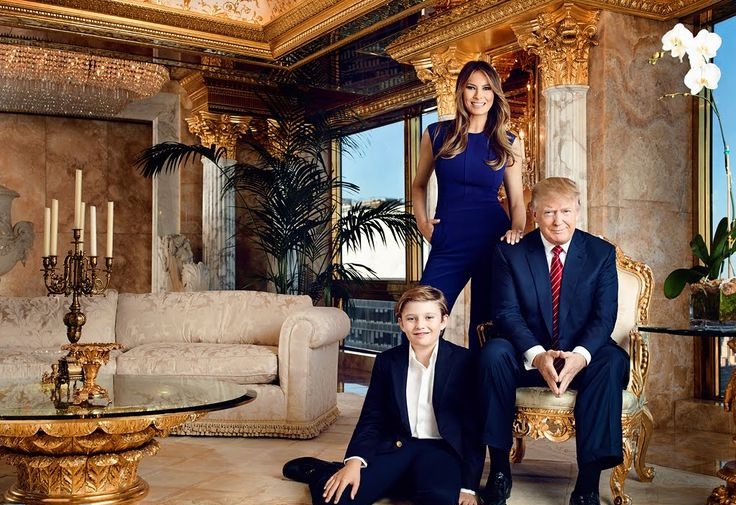 Here's another part of that room. Let it sink in, one square inch of this room probably costs more than you make in a year. It's nuts! Also, Melania looks pretty great, she seems legitimately happy here! She doesn't really like being in the public eye, so it'll be interesting to see how things unfold.
Donald is Boss
Donald, Donald Jr. and Ivanka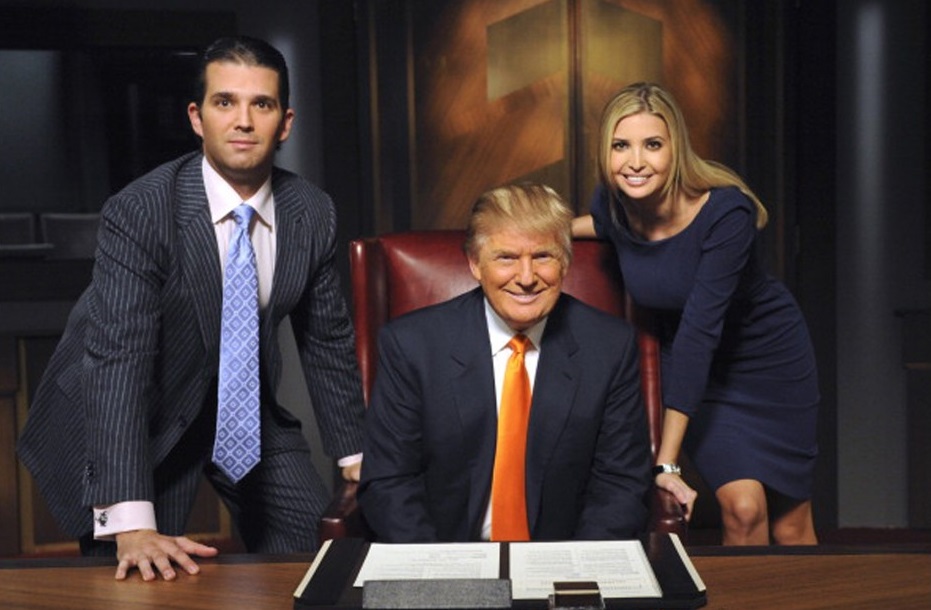 Here is a more recent photo of Donald with his two favorite oldest children and employees, Donald Jr. and Ivanka. This photo looks like it might have been used for some promotional materials or just to send to his employees to remind them that it's a family business and they're never getting promoted.
Donald Buys a Star
Walk of Fame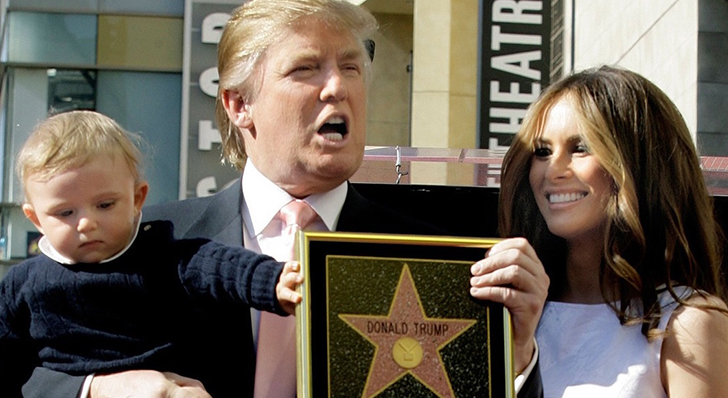 When I saw this photo I wondered how it's possible that a D-lister like Donald can get a star on Hollywood's walk of fame but A-listers like Julia Roberts and Dustin Hoffman don't; then I realized it's because you have to BUY it! An application to be on the walk of fame costs $30,000, pocket change to Donald. I wonder of they charged him extra?
Trump's star in 2017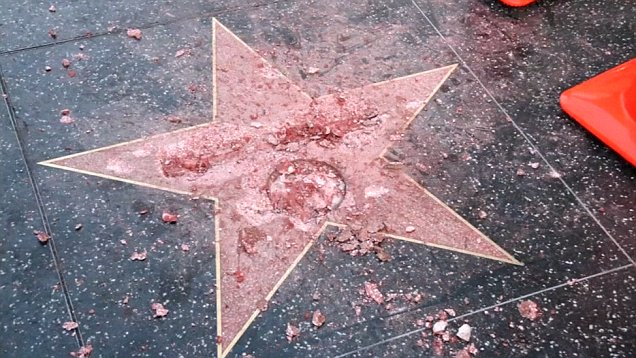 Here is a recent photograph of Trump's star. It represents the shattered dreams of Americans.
Donald's Five Children
Donald Jr, Ivanka, Eric, Tiffany and Barron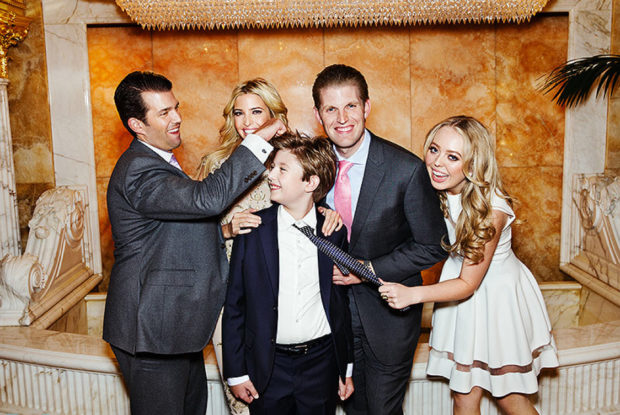 Donald has five children with three different women and they all seem to get along well. This photo looks fairly recent, and they legitimately look cute! I really don't have anthing bad to say about them, probably because they all take after their mothers!
The OG Trump Kids
Donald Jr, Ivanka and Eric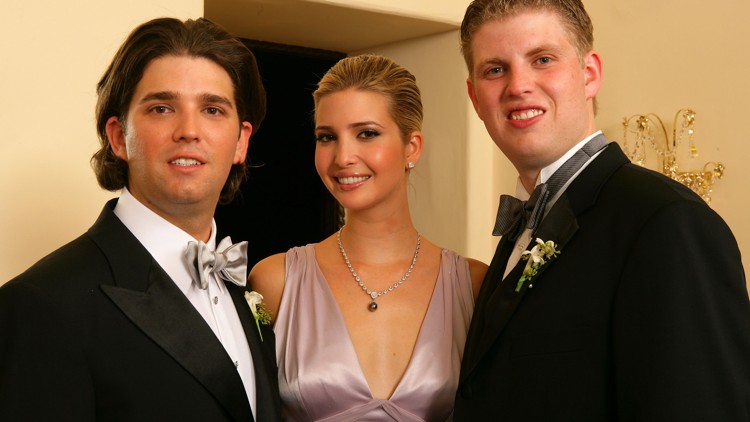 Donald had his first three children with his first wife Ivana. They all work for the Trump organization and are all highly successful. No silver spoons here!